Navigating with OziExplorer
What is OziExplorer?
OziExplorer (OE) is a program written by australian Des Newman and his wife Lorraine. It closes the gap between a scanned map and the digital output of your GPS. What it basically does is putting the GPS output in a graphical form so you can look at a map (or picture) to see exactly where you are. It displays your present position, the direction you are heading and the way you came from. You can also add comments and events without altering the map. Pictures can also be included.

Des initially made this for his own 4x4 activities but it proved very useful for others too. Here his own comments: "The software was developed to allow me to set up my 4 wheel drive trips. Before the trip I scan in the relevant map if I have not already done so. I then sit down and work out where I am going, and using OziExplorer, position waypoints on all the road and track intersections and towns etc. Add in Map Features and Map Comments where appropriate. Use events to mark the position of the roads and tracks. I save all these to files as necessary. I add waypoints and events to more than cover the region I expect to visit to allow for change of plans. When I am happy with the map I then send the waypoints and events to the GPS and print the map and waypoint list."

System requirements: Windows 95/98/ME/NT4/2000. Runs also under XP. Min RAM is 32 although it can be run under just 16 MB. A display running a High Color (16 Bit) or True Color (24 Bit) color palette. About the CPU Des states: "I have successfully run the software on a 486/DX33 with 12Mbytes of RAM. Performance was a little slow however." These days OziExplorer is available for Android Devices, In-Dash Nav and more.
OziExplorer is also available in a different version for Palmtops running Windows CE.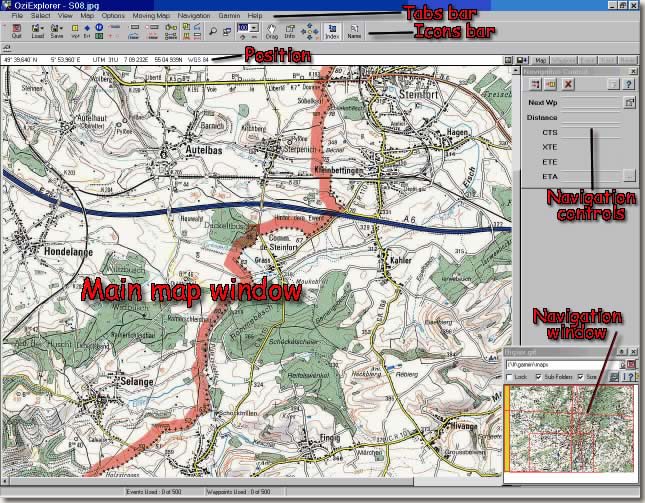 This is the main screen on a scanned map. The navigation window and navigation controls can be switched on and of as you like. The main map window shows your position as a moving arrow and the way you came on as a colored line. When you reach the edge of a map it automatically switches to the neighbouring map even if that one is in an different folder. You can choose to keep the resolution or to switch automatically for the most detailed map available. It generates automatically a navigation window showing the adjoining maps. Several functions can be switched on or off like a night view, track graphics and so on.
Download the trial version of OziExplorer . The trial version is not limited in time and fully functional except that you can only use BMP-maps and you don't have access to some options. But it's enough to get an impression of the software. You can upgrade and unlock the program later on.
Conclusion: Why do I give so much room to a single software? Well, I like to use the program. It's so easy in it's basics that even my wife likes to work with it (hope she will never read this or she'll kill me...). Yet it offers so many in-depth features you can play with it for days. As I'm the sort of guy who likes to look at maps and figure out what it may look like this helps me a lot. On many maps I safe the tracks together with the map, then add waypoints, places of interest and even digital pictures. So I have an excellent idea of the terrain even after some years.