Mitsubishi


Mitsubishi - Triton/Challenger
The DIG Options plug supplied does not fit.
Mitsubishi changed the stereo supplied however the original wiring is still in the car. Please follow the wiring harness into your vehicle around 50cm and you will find a join that matches our plug.
The steering plug does not match.
Please use the steering plug supplied with your product. Cut the larger plug off (if applicable) and join as per the below image. Connect the white wire of the DIG Options cable to the red/yellow (or red wire with white trace - depending on your vehicle) and the black wire to the red/white (or orange with red trace). Also see instructions at the following link:
https://www.dropbox.com/s/lbhiylw3nfimir9/steeringwheelWires.pdf?dl=0
Additional Information for AVN-M02 DIG Options Triton GLX-R Nav System
The following compass part will need to be removed from your original equipment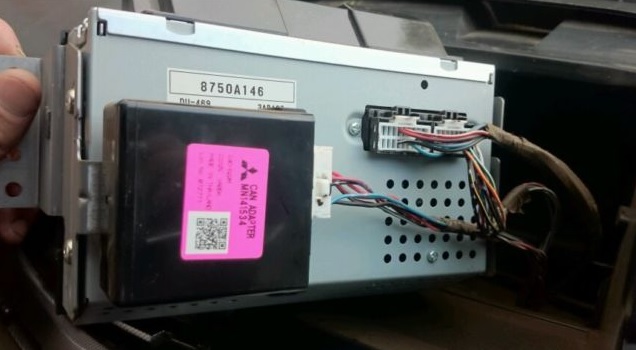 https://www.dropbox.com/s/gcwmasu0k2io3zh/Original%20compass%20to%20be%20removed%20and%20added%20to%20AVN-M02.jpg?dl=0
The following information will assist with setup
https://www.dropbox.com/s/rnti0tgyjlth73q/AVN-M02%20installation.pdf?dl=0
https://www.dropbox.com/s/jo0e090hn7rtgzb/Pls%20see%20the%20connection%20of%20canbus%20for%20C094.docx?dl=0
Mitsubishi Pajero / Montero NM / NP 2000 - 2006
How will the DIG Options system look in my car?
Mitsubishi - Pajero 2006 Onwards
My premium Pajero System from DIG Options did not include a logo for startup
Please download the following file. Unzip it and open the folder. When you see the 4 files please copy these directly onto an sd card. Turn your DIG Options system off, add the sd card with new 4 files and switch the system on. After update please remove the files. For the files click here
The Steering plug does not match
Depending on what harness Mitsubishi decided to use in your car the included plug may or may not fit. If it doesn't we dont have a plug but wiring is super easy.
with the original unit connected pull out each plug individually to see which one controls the steering and then use a multimeter to work out which wire changes in value
Pin 22 Red/White to White wire of supplied Control Plug harness
Pin 32 White/Black to Purple wire of supplied Control Plug harness
I have a Rockford Fosgate Sound System and not getting sound
Push the knob on the right and select E-Amp. E is for External. This can only be accessed when in CD/DVD mode.
Mitsubishi - General Model (AND-M03)
There is no sound
Please go to Bluetooth dial ##0323 and dial. Find Amp settings and update to Internal Adjustable.
---
Leave a comment